Login to
TheFXApp

Account

Your TheFXApp account gives you access to the tools that we offer our customers including our
Technical Studies & Sentiment for your accounts.

Don't you have a TheFXApp account? With a few easy steps you can easily register to TheFXApp

Register
Thank you!
Welcome to TheFXApp family!
You have succesfully completed the registration. We will send you an e-mail to give you some instructions and our Terms and Conditions!
Our account representatives will be contacting you as soon as possible. If you have any further questions please do not hesitate to
mail us via support@thefxapp.com
News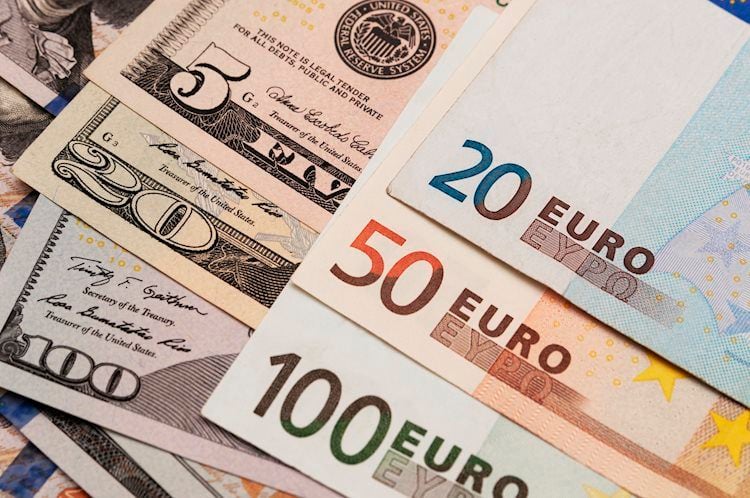 | 13/08/2019 16:47
USTR additional tariffs on some products will be delayed to December 15.
Risk-on is sending the greenback up and safe-haven assets down.
EUR/USD is testing the daily lows near 1.1173 support.
EUR/USD daily chart
EUR/USD is consolidating for the sixth consecutive day. The common currency is capped by the 1.1220/55 resistances as well as the 50/100-day simple moving averages (DSMAs). The US said that some tariffs are to be delayed until December 15. The news sparked a risk-on environment as US stock indices leapt higher, safe-haven gold, yen and CHF sold-off and the greenback rose.
EUR/USD 4-hour chart
EUR/USD remains in a range between the 1.1255 resistance and the 1.1160 support while the market is trading below a downward sloping 200 SMA. Bears are testing the 1.1173 support. However, EUR/USD would need a daily close below 1.1160 to confirm a bearish bias in the medium term.
EUR/USD 30-minute chart
The market is testing the 1.1173 while below its main SMAs. The range theme is intact above 1.1160. Immediate resistances are seen at 1.1200 and 1.1220, according to the Technical Confluences Indicator.
Additional key levels
Popular News
US Dollar Index Technical Analysis: DXY ends the week at five-day lows, near 98.00 handle

DXY (US Dollar Index) retreated slightly this week as the Index is trading above its main weekly simple moving averages in a bull channel.

| 15/11/2019 22:24

EUR/USD Technical Analysis: Euro corrects early November decline, ends the week above 1.1050 level

EUR/USD had a small corrective bounce above the 1.1000 handle this week. The market is trading below its main weekly simple moving averages in a weak bear tren

| 15/11/2019 21:51

GBP/USD: BoE shift and political uncertainty ahead of election to weigh on the pound – MUFG

Analysts at MUFG Bank, see the likelihood of the pound suffering a setback in the run up to the election has now been reduced although certainly not e

| 15/11/2019 19:54

Oil:  Brent momentum has turned decisively bullish on the key rolling 1-year time-frame – Rabobank

The path of least resistance is higher in the view of Rabobank analysts, as the herd of systematic funds begin accumulating a "long" oil position and

| 15/11/2019 19:23

EUR/USD: Broad-based euro weakness set to continue in near-term – MUFG

Analysts at MUFG Bank explained that improving Eurozone data flow and diminishing downside risk has been offering little support to the euro so far. T

| 15/11/2019 19:09

USD/CAD Technical Analysis: Greenback weaker against CAD, settles near 1.3230 level

The Loonie on the daily chart is trading below the 1.3250 level and the 200-day simple moving averages (DMA). This Friday, USD/CAD declined on USD weakness.

| 15/11/2019 19:01

USD/JPY: Neutral bias, yen to maintain funding currency status – ING

Analysts at ING, see the USD/JPY pair trading with a neutral bias the next week and expect it to move in the 108.10/109.50 range. Their one-month targ

| 15/11/2019 18:58

GBP/USD consolidates weekly gains above 1.2900 as pound remains supported ahead of UK elections

The GBP/USD pair continued to rise on Friday and reached at 1.2918, the highest level since November 4. Near the end of the week was hovering above 1.

| 15/11/2019 18:50

US Industrial Production: Underlying trend in manufacturing to remain subdued over the next months –  Wells Fargo

Industrial production declined by 0.3% during October. While the strike at General Motors and utilities accounted for most of the pullback, mining con

| 15/11/2019 18:17

United States Baker Hughes US Oil Rig Count down to 674 from previous 684

United States Baker Hughes US Oil Rig Count down to 674 from previous 684

| 15/11/2019 18:09

Opinion polls to be major driver of pound in next few weeks - ING

Previewing next week macroeconomic events in the United Kingdom, "Next week is pretty light in terms of market-moving events," note ING analysts. Key

| 15/11/2019 17:51

Oil Technical Analysis: WTI challenges weekly highs near $58.00 a barrel

The crude oil West Texas Intermediate (WTI) is currently holding above $57.00 a barrel and the 200-day simple moving average (DMA). The market has been tradi

| 15/11/2019 17:33

Gold looks to close week with small gains below $1,470

The precious metal struggled to find demand on Friday as the upbeat market mood on renewed hopes of the United States and China reaching a trade deal

| 15/11/2019 17:25

Atlanta Fed's GDPNow slumped to 0.3% for Q4 from 1%

According to the latest GDPNow report published by the Federal Reserve Bank of Atlanta, the real gross domestic product (GDP) in the United States (US

| 15/11/2019 16:54

USD/JPY Technical Analysis: Greenback rebounds from November lows, trading above 108.70 level

USD/JPY is trading just below the 109.00 handle and the 200-day simple moving average (DMA) on the daily time frame. In the last two months, the market has bee

| 15/11/2019 16:49

FOMC minutes to set a high bar for additional accommodation - TD Securities

Previewing next week's key macroeconomic events, "We expect the FOMC minutes from the October meeting to elaborate on the Committee's decision to ease

| 15/11/2019 16:37

NY Fed's GDP Nowcast falls to 0.4% for fourth quarter from 0.7%

According to the Federal Reserve Bank of New York's latest Nowcasting Report published on Friday, the United States' (US) economy is expected to expan

| 15/11/2019 16:31

US industrial output plunged again in October - ING

Commenting on the Federal Reserve's monthly data that showed both the Manufacturing Production and the Industrial Production in the United States decl

| 15/11/2019 16:19

US Dollar Index Technical Analysis: DXY at five-day lows, challenges the 98.00 handle.

DXY (US Dollar Index) is trading in a bull trend above the main daily simple moving averages (DMAs). This Friday the Greenback declined to its lowest in five-

| 15/11/2019 16:09

EUR/JPY ends five-day negative streak and rises back above 120.00

The EUR/JPY pair is rising sharply on Friday, following five consecutive days of losses. An improvement in risk sentiment helped the pair moved off mo

| 15/11/2019 16:02

ECB's Visco: European single currency needs to interact with a single fiscal policy

While speaking at a conference in Rome earlier in the day, "European single currency needs to interact with a single fiscal policy," European Central

| 15/11/2019 16:01

UK election: PM Johnson's Conservatives widen the lead

According to a Panelbase poll published on Friday, British Prime Minister Boris Johnson's Conservative Paty widened the gap with the Labour Party to 1

| 15/11/2019 15:46

US: October retail sales report still suggests solid holiday sales ahead – Wells Fargo

Data released today showed retail sales rebounded in October with a 0.3% increase. Analysts at Wells Fargo explained control group sales continued to

| 15/11/2019 15:37

GBP/USD Technical Analysis: Cable advances to fresh weekly highs, trading above the 1.2900 handle

The sterling is currently correcting last month's rally in the 1.2800-1.3000 price zone. GBP/USD, in October, hit levels not seen since mid-May 2019.

| 15/11/2019 15:20

AUD/USD climbs above 0.6800, looks to snap five-day losing streak

The AUD/USD pair gained traction in the American trading hours on Friday and rose above the 0.6800 handle boosted by renewed hopes of the United State

| 15/11/2019 15:19

United States Business Inventories came in at 0%, below expectations (0.1%) in September

United States Business Inventories came in at 0%, below expectations (0.1%) in September

| 15/11/2019 15:00

EUR/USD advances to weekly highs near 1.1050

EUR/USD keeps pushing higher and extends the recovery to the 1.1050 region on the back of increasing selling pressure hitting the greenback. EUR/USD t

| 15/11/2019 14:46

Wall Street opens with decisive gains led by technology shares

Wall Street's main indexes started the last day of the week in the positive territory supported by renewed hopes of the United States and China finali

| 15/11/2019 14:42

Colombia Gross Domestic Product (YoY) came in at 3.3%, above forecasts (2.9%) in 3Q

Colombia Gross Domestic Product (YoY) came in at 3.3%, above forecasts (2.9%) in 3Q

| 15/11/2019 14:39

Breaking: GBP/USD jumps over 1.29 as Brexit Party abandons 43 additional seats, assisting Conservatives

More to come

| 15/11/2019 14:32
Show More Popular News