Login to
TheFXApp

Account

Your TheFXApp account gives you access to the tools that we offer our customers including our
Technical Studies & Sentiment for your accounts.

Don't you have a TheFXApp account? With a few easy steps you can easily register to TheFXApp

Register
Thank you!
Welcome to TheFXApp family!
You have succesfully completed the registration. We will send you an e-mail to give you some instructions and our Terms and Conditions!
Our account representatives will be contacting you as soon as possible. If you have any further questions please do not hesitate to
mail us via support@thefxapp.com
News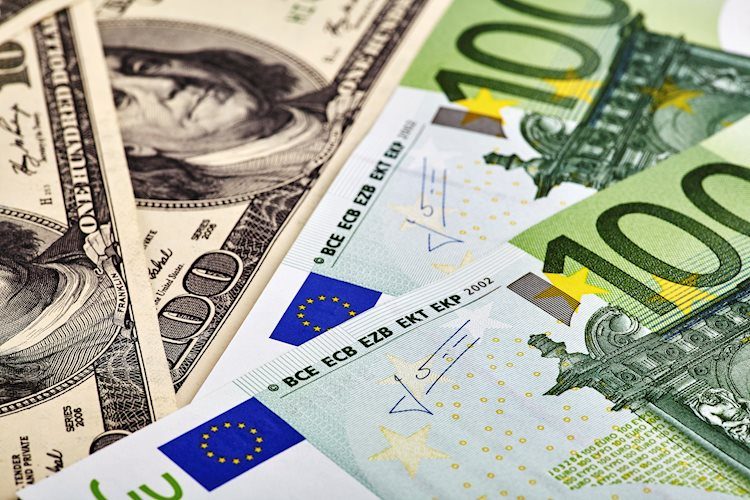 | 14/08/2019 14:16
EUR/USD is trading at fresh weekly lows below the 1.1160 key level.
The market has room to potentially fall towards the 1.1130 and 1.1106 levels.
EUR/USD daily chart
On the daily time-frame, the single currency is capped by the 1.1220/55 resistances and the 50/100-day simple moving averages (DSMAs).
EUR/USD 4-hour chart
EUR/USD is attempting to break below the 1.1160 support and the 100 SMA. If the bears succeed, they can drive the market down to the 1.1130 and 1.1106 supports. Immediate resistances are seen at 1.1160,1.1200 and 1.1220, according to the Technical Confluences Indicator.
Additional key levels
Popular News
Canada's Freeland invited to Mexico talks as USMCA deal gets closer

A senior Mexican official said late Monday that Mexico's government has invited Canadian Deputy Prime Minister Chrystia Freeland to trade talks in Mex

| 10/12/2019 02:28

Central banks consuming 20% of global gold supply - Goldman Sachs

Central banks are consuming a fifth of the global supply of gold as a part of the de-dollarisation strategy, according to Goldman Sachs Group Inc. Dem

| 10/12/2019 02:22

USD/CNH holds to recovery gains following China's welcome inflation numbers

USD/CNH rises to 7.370 amid early Tuesday trading. That said, the quote recently benefited from China's headlines inflation data.

| 10/12/2019 02:16

USD/CAD: Canadian Dollar gains on optimism over USMCA trade deal

The bid tone around the Canadian dollar (CAD) has strengthened with reports stating that an agreement on the US-Mexico-Canada Agreement (USMCA) is clo

| 10/12/2019 02:05

NZD/USD Technical Analysis: Bulls target immediate resistance trendline after China data

NZD/USD takes the bids to 0.6560 after China released November month inflation data on early Tuesday.

| 10/12/2019 01:55

USMCA deal getting close to the line

In recent trade, there is news going around that a USMCA trade treaty is on the brink of being set as soon as today. This follows earlier announcement

| 10/12/2019 01:49

AUD/USD registers mild gains after China's upbeat inflation data

AUD/USD rises mildly to near 0.6530 after China released November month inflation data. The pair has been showing a lack response to the recent data.

| 10/12/2019 01:36

USD/JPY: Bouncing up from 50-day MA amid mixed trade headlines

USD/JPY has bounced up slightly from near 50-day average support at 108.55 and but is struggling to build upside momentum amid mixed trade headlines.

| 10/12/2019 01:34

China CPI a touch hotter than expected 4.5% vs 4.2% exp YoY

November's Producer Price Index and Consumer Price Index have been released as follows: Producer Price Index Producer Price Index (YoY) (Nov) -1.4% vs

| 10/12/2019 01:31

US House Speaker Pelosi: Close but deal not yet done on NAFTA

Fresh comments are crossing the wires from the US House Speaker Pelosi, via Reuters, as she says that they are close but deal not yet done on NAFTA. M

| 10/12/2019 01:30

China Consumer Price Index (MoM) came in at 0.4%, above expectations (0.1%) in November

China Consumer Price Index (MoM) came in at 0.4%, above expectations (0.1%) in November

| 10/12/2019 01:30

China Producer Price Index (YoY) registered at -1.4% above expectations (-1.5%) in November

China Producer Price Index (YoY) registered at -1.4% above expectations (-1.5%) in November

| 10/12/2019 01:30

China Consumer Price Index (YoY) came in at 4.5%, above forecasts (4.2%) in November

China Consumer Price Index (YoY) came in at 4.5%, above forecasts (4.2%) in November

| 10/12/2019 01:30

Canadian PM Trudeau spoke with US Pres. Trump Monday on NAFTA ratification

Reuters reports the latest statement from the Canadian Prime Minister (PM) Trudeau's Office on the United States-Mexico-Canada Agreement (USMCA) progr

| 10/12/2019 01:24

PBOC sets Yuan reference rate at 7.0400

The People's Bank of China (PBOC) has set the Yuan reference rate at 7.0400 versus Monday's fix at 7.0405.

| 10/12/2019 01:16

WTI Technical Analysis: 50% Fibonacci, 10-day EMA restrict immediate declines

WTI refrains from extending the previous day's declines while trading near $59.00 during the Asian session on Tuesday.

| 10/12/2019 01:07

AUD/USD ignores Australia's housing, NAB data as traders await China inflation

AUD/USD stays modestly changed to 0.6825 during the Asian session on Tuesday. The Aussie pair shows no major reaction to Australian data.

| 10/12/2019 00:40

Australia data dump: Aussie holds steady despite positive data

We have had a number of key releases for Australia which have had little impacted the domestic currency: The November Australia business confidence su

| 10/12/2019 00:33

Australia House Price Index (YoY): -3.7% (3Q) vs -7.4%

Australia House Price Index (YoY): -3.7% (3Q) vs -7.4%

| 10/12/2019 00:32

Australia National Australia Bank's Business Conditions registered at 4 above expectations (2) in November

Australia National Australia Bank's Business Conditions registered at 4 above expectations (2) in November

| 10/12/2019 00:30

Australia National Australia Bank's Business Confidence in line with expectations (0) in November

Australia National Australia Bank's Business Confidence in line with expectations (0) in November

| 10/12/2019 00:30

Australia House Price Index (QoQ) came in at 2.4%, above forecasts (0.2%) in 3Q

Australia House Price Index (QoQ) came in at 2.4%, above forecasts (0.2%) in 3Q

| 10/12/2019 00:30

Gold: Struggles to justify Monday's inverted hammer, eyes on trade news, China inflation

Gold prices extend Monday's recovery to $1,461 by the press time of early Asian session on Tuesday.

| 10/12/2019 00:10

Japan Money Supply M2+CD (YoY) above forecasts (2.5%) in November: Actual (2.8%)

Japan Money Supply M2+CD (YoY) above forecasts (2.5%) in November: Actual (2.8%)

| 09/12/2019 23:51

AUD/JPY steady in early Asia on 74 handle waiting key data events

AUD/JPY has been capped by the declining 200-day moving average but maintains a bullish tendency on the charts, despite the negative fundamental backd

| 09/12/2019 23:46

GBP/JPY Technical Analysis: Sellers look for entry below 141.75/65

GBP/JPY stays under pressure around 142.70 during Tuesday's Asian session. The pair repeatedly fails to sustain its run-up beyond 143.00.

| 09/12/2019 23:39

Declining US-China trade trend hard to reverse - Global Times

The Global Times reports on the 18 months of tariff wars between the US and China and argues that, "even with a "phase one" trade deal, the downtrend

| 09/12/2019 23:28

US House majority leader Hoyer says agreement close on USMCA trade deal

US House majority leader Hoyer says agreement close on USMCA trade deal. Additional notes Mexican government invites Canada's deputy prime minister Fr

| 09/12/2019 23:07

When is China CPI/PPI data and how could they affect AUD/USD?

Early on Tuesday around 01:30 GMT, the market sees November month headline inflation numbers from China, namely the CPI and the PPI.

| 09/12/2019 23:07

GBP/USD Technical Analysis: Eyes on 1.3110/07 support confluence amid bearish MACD

GBP/USD drops to 1.3140 amid the initial Asian trading session on Tuesday. The quote witnesses a pullback from an eight-month high amid bearish MACD.

| 09/12/2019 22:49
Show More Popular News