Login to
TheFXApp

Account

Your TheFXApp account gives you access to the tools that we offer our customers including our
Technical Studies & Sentiment for your accounts.

Don't you have a TheFXApp account? With a few easy steps you can easily register to TheFXApp

Register
Thank you!
Welcome to TheFXApp family!
You have succesfully completed the registration. We will send you an e-mail to give you some instructions and our Terms and Conditions!
Our account representatives will be contacting you as soon as possible. If you have any further questions please do not hesitate to
mail us via support@thefxapp.com
News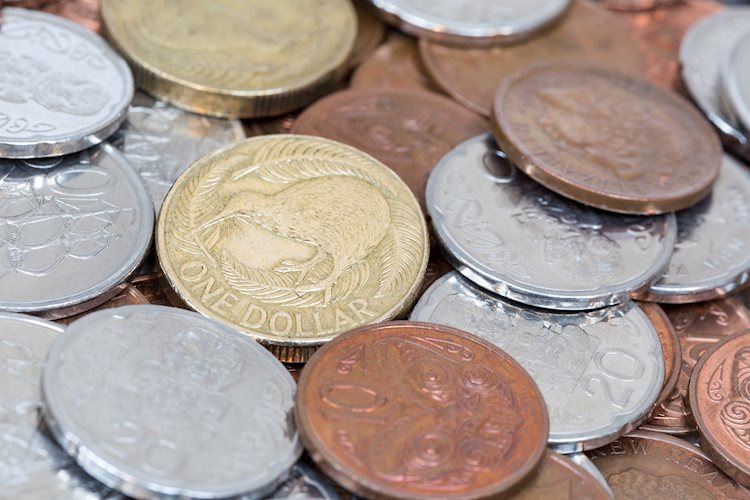 NZD/USD briefly eclipsed the 0.7050 level on Monday, before sharply backing off highs going into the final 16:00GMT London fix of the month. However,

| 30/11/2020 18:34
NZD/USD briefly touched 0.7050 on Monday, before a bout of month-end USD strength sent the pair lower.
The pair found solid support at 0.7010, however, and now consolidates around 0.7030.
NZD/USD briefly eclipsed the 0.7050 level on Monday, before sharply backing off highs going into the final 16:00GMT London fix of the month. However, strong support was found just above 0.7010 and the pair has recovered back into the green to trade around 0.7030, up roughly 10 pips or just under 0.2% on the day.
NZD still a star performer amongst the G10
NZD looks to close the month with gains of 6.3% vs the US dollar, significantly outstripping its antipodean counterpart AUD, which holds onto more modest, but still solid, gains of around 4.7%.
Unlike AUD, NZD has not been weighed on by either central bank action (indeed, news of the New Zealand government floating the idea of including house price inflation into the RBNZ's inflation remit actually boosted NZD) or tensions with China (China is holding up over A$1B in Australian coal imports and just hit Australian wine with huge tariffs).
Meanwhile, the kiwi has been able to benefit from a drastic improvement in broader financial market risk appetite (many major equities indices posting their best months in decades or even ever), which has been driven by vaccine hopes and US President-elect Joe Biden's recent election victory. Not that New Zealand actually even needs a vaccine right now; the country has proven to be one of the best in the world in containing the pandemic, another factor keeping NZD supported.
Global themes such as those mentioned above look set to continue to dominate NZD flows in the week ahead, amid a lack of any more pertinent New Zealand domestic economic events. Solid Chinese PMI data and New Zealand ANZ business survey released during Monday's Asia session has helped the kiwi off to a decent start. Whether the current pace of NZD/USD appreciation can continue at the present rate is another question; analysts note that NZD long-positioning is become overstretched and that the RBNZ, who have shown a strong aversion to NZD strength in the past, might be keen to jawbone the currency lower.
NZD/USD eyes June 2018 highs above 0.7050
0.7050 is the next barrier for NZD/USD to overcome, having tested it on multiple occasions but failed to breach it on Monday. Should this level go, a test of the June 2018 high at 0.7067 ought to come in short order. Conversely, if recent downside continues, there is solid support in the 0.7010 area, as came into play already on Monday. Below that, the psychological 0.7000 level ought also to offer solid support.
NZD/USD four hour chart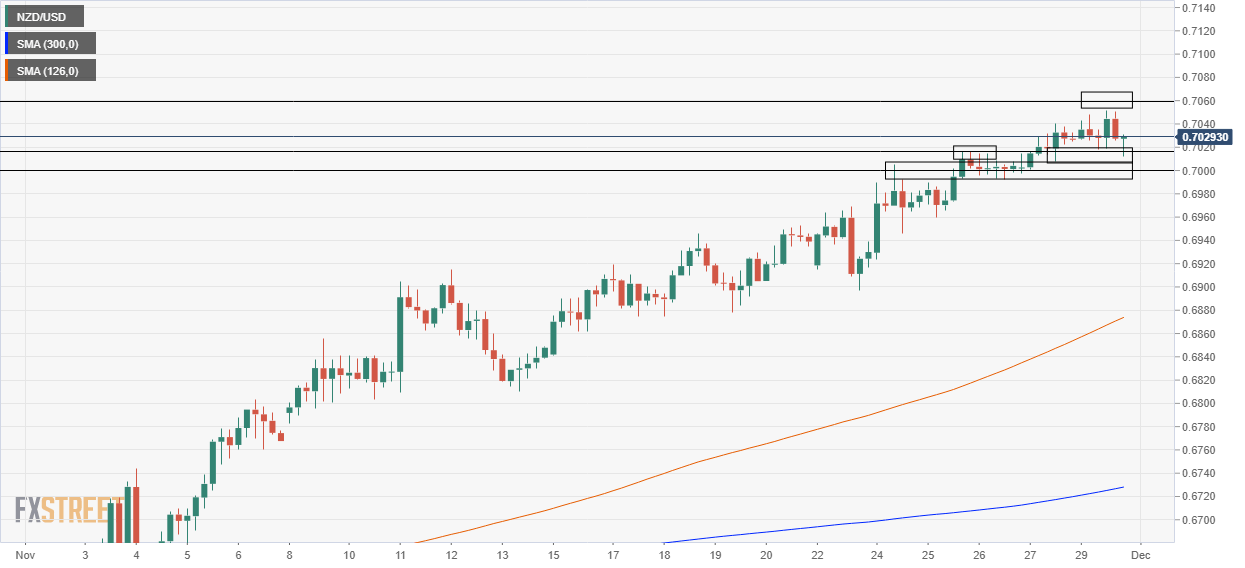 Popular News
GBP/JPY Price Analysis: Hits the highest level since September 2020, around 142.35

A strong pickup in demand for the British pound pushed the GBP/JPY cross to the highest level since early September 2020, around the 142.35 region dur

| 20/01/2021 12:02

United States MBA Mortgage Applications declined to -1.9% in January 15 from previous 16.7%

United States MBA Mortgage Applications declined to -1.9% in January 15 from previous 16.7%

| 20/01/2021 12:00

Silver Price Analysis: XAG/USD to recover towards the 27.97 recent high – Commerzbank

Silver maintains a bullish bias as XAG/USD has based at the 24.20 Fibonacci support and strategists at Commerzbank look for it to re-try the topside.

| 20/01/2021 11:55

EUR/USD to prolong the corrective phase while below 1.2231 – Credit Suisse

EUR/USD has recovered strongly after holding as expected the 38.2% retracement of its November/January rally and 55-day average at 1.2065/54, but with

| 20/01/2021 11:35

Malaysia: Government reallocates extra assistance – UOB

UOB Group's Senior Economist Julia Goh and Economist Loke Siew Ting review the recent measure announced by the Malaysian government. Key Quotes "The g

| 20/01/2021 11:33

Portugal Current Account Balance fell from previous €-1.823B to €-1.926B in November

Portugal Current Account Balance fell from previous €-1.823B to €-1.926B in November

| 20/01/2021 10:58

Germany 30-y Bond Auction rose from previous -0.2% to -0.13%

Germany 30-y Bond Auction rose from previous -0.2% to -0.13%

| 20/01/2021 10:57

USD/JPY to turn bullish on a break above 104.40

The USD/JPY pair, which is stuck around 103.80, needs to regain the 104.40 mark to turn bullish, Valeria Bednarik, Chief Analyst at FXStreet, reports.

| 20/01/2021 10:49

China: GDP surpassed expectations in Q4 – UOB

Economist at UOB Group Ho Woei Chen, CFA, assesses the lastst GDP figures in the Chinese economy. Key Quotes "China's GDP growth accelerated further t

| 20/01/2021 10:46

Breaking: GBP/USD soars above 1.37, hits highest since 2018

GBP/USD has jumped above 1.37, The British pound has been benefiting from Britain's rapid vaccination campaign and also from a gradual decrease in COV

| 20/01/2021 10:45

EUR/USD looks offered and approaches 1.2100

The single currency fades the initial optimism and now motivates EUR/USD to retreat to the vicinity of the 1.2100 area, or session lows. EUR/USD looks

| 20/01/2021 10:39

EUR/JPY: Corrective setback to be over once above 126.54 – Credit Suisse

EUR/JPY has recovered strongly after holding as expected the "neckline" to its "head & shoulders" base and 55-day average at 125.37/11 and above 126.5

| 20/01/2021 10:32

EUR/USD to consolidate at higher levels in the month ahead – MUFG

The euro has made a weak start to the New Year. In contrast, the US dollar has been one of the better performing currencies alongside the Norwegian kr

| 20/01/2021 10:11

EUR/GBP plummets to mid-0.8800s, lowest since May 2020

A sudden pickup in the British pound dragged the EUR/GBP cross to eight-month lows, around mid-0.8800s during the first half of the European trading s

| 20/01/2021 10:03

Eurozone final CPI meets estimates with 0.3% MoM in December, EUR/USD unfazed

more to follow ....

| 20/01/2021 10:02

European Monetary Union Consumer Price Index - Core (MoM) in line with forecasts (0.4%) in December

European Monetary Union Consumer Price Index - Core (MoM) in line with forecasts (0.4%) in December

| 20/01/2021 10:00

European Monetary Union Consumer Price Index (YoY) meets expectations (-0.3%) in December

European Monetary Union Consumer Price Index (YoY) meets expectations (-0.3%) in December

| 20/01/2021 10:00

European Monetary Union Consumer Price Index - Core (YoY) meets forecasts (0.2%) in December

European Monetary Union Consumer Price Index - Core (YoY) meets forecasts (0.2%) in December

| 20/01/2021 10:00

European Monetary Union Consumer Price Index (MoM) in line with expectations (0.3%) in December

European Monetary Union Consumer Price Index (MoM) in line with expectations (0.3%) in December

| 20/01/2021 10:00

Japan concludes contract with Pfizer to procure 144M doses of covid vaccines in 2021

Commenting on Pfizer's coronavirus vaccine, Japanese Health minister Norihisa Tamura said that they have concluded a contract with the US drugmaker to

| 20/01/2021 09:55

GBP/USD Price Analysis: Bulls yearning for a firm break above 1.3700

GBP/USD is building onto the recent recovery rally, as the bulls look to recapture the 1.3700 level amid persistent US dollar's weakness and upbeat UK

| 20/01/2021 09:36

United Kingdom DCLG House Price Index (YoY) registered at 7.6% above expectations (5%) in November

United Kingdom DCLG House Price Index (YoY) registered at 7.6% above expectations (5%) in November

| 20/01/2021 09:30

NZD/USD Price Analysis: Steadily climbs to weekly tops, upside seems limited

The NZD/USD pair gained traction for the second consecutive day and refreshed weekly tops, around mid-0.7100s during the early European session on Wed

| 20/01/2021 09:26

Bank of Canada Preview: Forecast from nine major banks

The Bank of Canada (BoC) is set to leave its interest rate unchanged in the first such event of 2021 and as we get closer to the release time, here ar

| 20/01/2021 09:23

USD/CNH still looks for a test of 6.5200 – UOB

FX Strategists at UOB Group still believe USD/CNH could edge higher to the 6.5200 area in the next weeks. Key Quotes 24-hour view: "USD dropped to 6.4

| 20/01/2021 09:12

US Dollar Index extends the drop to the 90.30 area, focus on US politics

The US Dollar Index (DXY), which gauges the greenback vs. its main competitors, remains on the back footing so far this week and slips back to the 90.

| 20/01/2021 09:10

Riksbank's Skingsley: We have not ruled out going into negative rate territory again

"We have not ruled out going into negative rate territory again," Riksbank's Deputy Governor Cecilia Skingsley said in a scheduled speech on Wednesday

| 20/01/2021 09:09

Greece Current Account (YoY) dipped from previous €-0.767B to €-1.259B in November

Greece Current Account (YoY) dipped from previous €-0.767B to €-1.259B in November

| 20/01/2021 09:01

AUD/USD to suffer a potential drop towards the 0.7340 November 9 high – Commerzbank

Regarding the AUD/USD pair, Karen Jones, Team Head FICC Technical Analysis Research at Commerzbank, is awaiting a close below the 20-day moving averag

| 20/01/2021 08:57

Gold Price Analysis: XAU/USD sits near one-week tops, above $1850 level

Gold continued scaling higher through the early European session and climbed to near one-week tops, around the $1857 region in the last hour. Followin

| 20/01/2021 08:55
Show More Popular News