Login to
TheFXApp

Account

Your TheFXApp account gives you access to the tools that we offer our customers including our
Technical Studies & Sentiment for your accounts.

Don't you have a TheFXApp account? With a few easy steps you can easily register to TheFXApp

Register
Thank you!
Welcome to TheFXApp family!
You have succesfully completed the registration. We will send you an e-mail to give you some instructions and our Terms and Conditions!
Our account representatives will be contacting you as soon as possible. If you have any further questions please do not hesitate to
mail us via support@thefxapp.com
News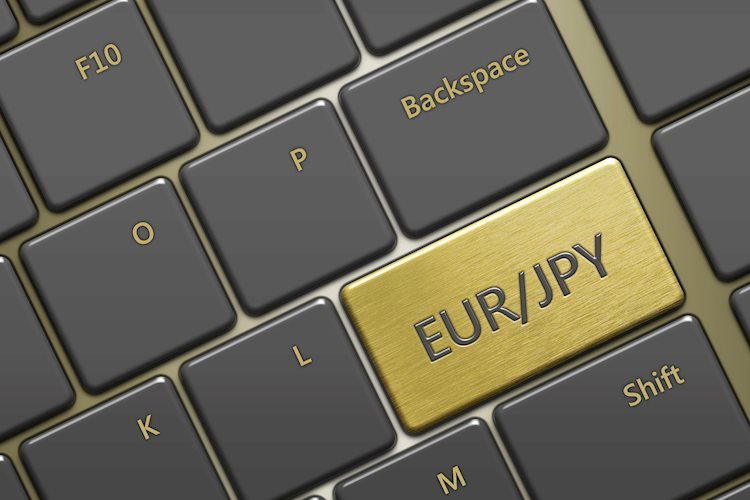 EUR/JPY came within 1 pip of matching monthly highs set on 9 November in the immediate aftermath of the Pfizer/BioNtech announcement at 125.14. Howeve

| 30/11/2020 17:44
EUR/JPY came within a whisker of November highs at 125.14 and has since reversed sharply back below the 125.00 level.
The pair still trades with reasonable gains on the day, however, as JPY broadly ends a bad month with a whimper.
EUR/JPY came within 1 pip of matching monthly highs set on 9 November in the immediate aftermath of the Pfizer/BioNtech announcement at 125.14. However, in the build-up to a choppy final 16:00GMT London fixing of the month, the pair sharply reversed and has now dropped back below 125.00 to trade in the 124.60s.
Month-end flows dominate, but economic fundamentals to take over as the week progresses
Difficult to predict month-end flows have been dominant in financial markets today; many banks were suggesting USD selling, which was initially seen before being unwound prior to the 16:00GMT London Fix. Meanwhile, US equities dumped shortly after the open, amid a number of high-profile institutions touting sell signals. The S&P 500 currently trades 0.8% lower on the day, but still holds onto gains of more than 10% on the month.
The euro and yen have also been buffeted by month-end flows. But with this short-lived phenomenon now largely over, focus ought to return to the usual themes driving the two currencies; risk appetite, central banks and economic fundamentals.
In particular, JPY traders will be watching for any hints that US states are moving further into lockdown, something which could support JPY vs its G10 peers including EUR. Moreover, Japanese November manufacturing and services PMIs are released on Tuesday and Thursday respectively, which ought to garner some attention, as should speeches from BoJ's Amamiya and Suzuki.
Meanwhile, EUR traders very much expect a hefty dose of easing from the ECB on 16 December and will be looking for further confirmation of as much from ECB President Christine Lagarde (speaking on Tuesday) and ECB Chief Economist Lane (speaking on Wednesday). Meanwhile, November Consumer Price Inflation is likely to be very soft and is released on Wednesday, while traders will also be watching Eurozone retail sales on Thursday.
EUR/JPY double top?
With EUR/JPY strongly rejecting resistance at the previous monthly high at 125.14, a double top has been put in. If this does turn out to be a meaningful double top, eyes will be on support just below the 124.00 level (26 November lows) and then the pair's 21 and 50-day moving averages just above 123.50. Below that at the 123.00 level, there is also strong support (2 and 15 October lows and 18, 19 and 20 November lows).
However, it might not be current to argue that EUR/JPY is a double top given that is has actually tested this region four times over the past two months; in mid-October, the pair rejected the 125.00 level twice. Thus, this might signal that a convincing upside break of the 125.00 level is coming imminently, which would open the door for a move to the upside and towards Summer highs between 126.50-127.00.
EUR/JPY four hour chart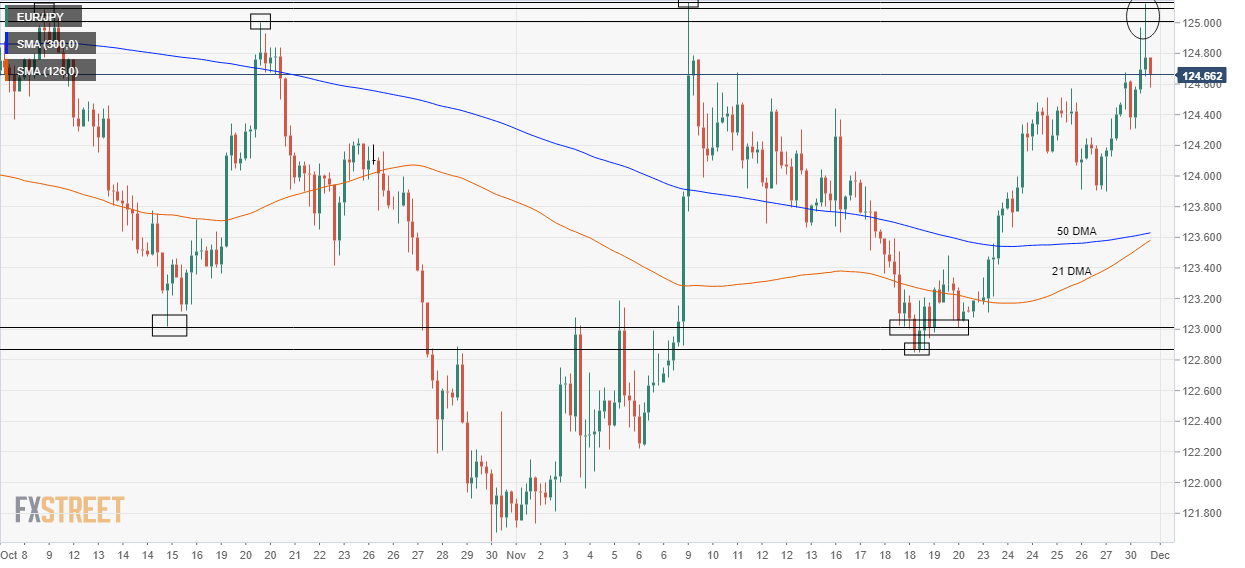 Popular News
WTI keeps the upbeat tone near $54.00 ahead of API, Biden

Prices of the West Texas Intermediate (WTI) move closer to the key $54.00 mark per barrel on Wednesday. WTI stays firm, looks to Biden, API The barrel

| 20/01/2021 14:06

United States Redbook Index (MoM) up to -2.5% in January 15 from previous -2.6%

United States Redbook Index (MoM) up to -2.5% in January 15 from previous -2.6%

| 20/01/2021 13:55

United States Redbook Index (YoY) up to 2.2% in January 15 from previous 2.1%

United States Redbook Index (YoY) up to 2.2% in January 15 from previous 2.1%

| 20/01/2021 13:55

When is the BoC monetary policy decision and how could it affect USD/CAD?

The Bank of Canada (BoC) is scheduled to announce its latest monetary policy update at 15:00 GMT this Wednesday. The BoC is anticipated to maintain st

| 20/01/2021 13:53

Canada Consumer Price Index - Core (MoM) down to 0.1% in December from previous 0.4%

Canada Consumer Price Index - Core (MoM) down to 0.1% in December from previous 0.4%

| 20/01/2021 13:34

Canada: Annual CPI eases to 0.7% in December vs. 1% expected

Inflation in Canada, as measured by the Consumer Price Index (CPI), fell 0.2% MoM in December, data published by Statistics Canada showed this Wednesd

| 20/01/2021 13:34

Canada BoC Consumer Price Index Core (MoM) registered at -0.4%, below expectations (-0.2%) in December

Canada BoC Consumer Price Index Core (MoM) registered at -0.4%, below expectations (-0.2%) in December

| 20/01/2021 13:31

Canada BoC Consumer Price Index Core (YoY) registered at 1.5% above expectations (1.2%) in December

Canada BoC Consumer Price Index Core (YoY) registered at 1.5% above expectations (1.2%) in December

| 20/01/2021 13:31

Canada Consumer Price Index (YoY) registered at 0.7%, below expectations (1%) in December

Canada Consumer Price Index (YoY) registered at 0.7%, below expectations (1%) in December

| 20/01/2021 13:30

Canada Consumer Price Index (MoM) came in at -0.2% below forecasts (0%) in December

Canada Consumer Price Index (MoM) came in at -0.2% below forecasts (0%) in December

| 20/01/2021 13:30

GBP/USD retreats from multi-year tops, still well bid above mid-1.3600s

The GBP/USD pair shot to fresh multi-year tops during the mid-European session, albeit quickly retreated around 50 pips thereafter. The pair was last

| 20/01/2021 13:13

Gold Price Analysis: False break of the $1819 uptrend allows for XAU/USD recovery – Commerzbank

Strategists at Commerzbank suspect the yellow metal has seen a false break of the 1819 uptrend which allows for recovery with the first resistance see

| 20/01/2021 13:09

EUR/USD Price Analysis: The 55-day SMA near 1.2050 offers support… for now

EUR/USD surpassed the 1.2100 mark on Wednesday, although the bullish impulse run out of gas near 1.2160. If the recovery picks up extra steam, then th

| 20/01/2021 13:00

US Dollar Index Price Analysis: Upside target remains at 91.00

DXY met buyers in the 90.30 region earlier on Wednesday and now resumes the upside to the 90.50/55 band. Despite the ongoing rebound, the prospect for

| 20/01/2021 12:48

Bank of Japan Preview: Forecast from seven major banks

The Bank of Japan will announce its latest decision on monetary policy this Thursday at 03:00 GMT and as we get closer to the release time, here are t

| 20/01/2021 12:47

USD/CAD Price Analysis: Off lows, keeps the red around 1.2700 mark ahead of BoC

The USD/CAD pair remained under some selling pressure for the second consecutive session on Wednesday and extended this week's rejection slide from th

| 20/01/2021 12:40

EUR/JPY Price Analysis: A drop to 125.00 is not ruled out

The bullish attempt in EUR/JPY has once again lost momentum in the 126.20 region. The rejection from this area leaves the door open to the resumption

| 20/01/2021 12:33

GBP/USD: Beginning of the Biden era to trigger a fresh rally

GBP/USD has hit the highest since 2018 but retreated from the highs. Biden's first moves as president and UK covid updates may trigger the next rally,

| 20/01/2021 12:27

ECB Preview: Lagarde may try to talk down the euro providing a buy-the-dip opportunity

The European Central Bank (ECB) is set to leave its policy unchanged in January. President Christine Lagarde may trigger a "buy the dip" opportunity b

| 20/01/2021 12:21

GBP/JPY Price Analysis: Hits the highest level since September 2020, around 142.35

A strong pickup in demand for the British pound pushed the GBP/JPY cross to the highest level since early September 2020, around the 142.35 region dur

| 20/01/2021 12:02

United States MBA Mortgage Applications declined to -1.9% in January 15 from previous 16.7%

United States MBA Mortgage Applications declined to -1.9% in January 15 from previous 16.7%

| 20/01/2021 12:00

Silver Price Analysis: XAG/USD to recover towards the 27.97 recent high – Commerzbank

Silver maintains a bullish bias as XAG/USD has based at the 24.20 Fibonacci support and strategists at Commerzbank look for it to re-try the topside.

| 20/01/2021 11:55

EUR/USD to prolong the corrective phase while below 1.2231 – Credit Suisse

EUR/USD has recovered strongly after holding as expected the 38.2% retracement of its November/January rally and 55-day average at 1.2065/54, but with

| 20/01/2021 11:35

Malaysia: Government reallocates extra assistance – UOB

UOB Group's Senior Economist Julia Goh and Economist Loke Siew Ting review the recent measure announced by the Malaysian government. Key Quotes "The g

| 20/01/2021 11:33

Portugal Current Account Balance fell from previous €-1.823B to €-1.926B in November

Portugal Current Account Balance fell from previous €-1.823B to €-1.926B in November

| 20/01/2021 10:58

Germany 30-y Bond Auction rose from previous -0.2% to -0.13%

Germany 30-y Bond Auction rose from previous -0.2% to -0.13%

| 20/01/2021 10:57

USD/JPY to turn bullish on a break above 104.40

The USD/JPY pair, which is stuck around 103.80, needs to regain the 104.40 mark to turn bullish, Valeria Bednarik, Chief Analyst at FXStreet, reports.

| 20/01/2021 10:49

China: GDP surpassed expectations in Q4 – UOB

Economist at UOB Group Ho Woei Chen, CFA, assesses the lastst GDP figures in the Chinese economy. Key Quotes "China's GDP growth accelerated further t

| 20/01/2021 10:46

Breaking: GBP/USD soars above 1.37, hits highest since 2018

GBP/USD has jumped above 1.37, The British pound has been benefiting from Britain's rapid vaccination campaign and also from a gradual decrease in COV

| 20/01/2021 10:45

EUR/USD looks offered and approaches 1.2100

The single currency fades the initial optimism and now motivates EUR/USD to retreat to the vicinity of the 1.2100 area, or session lows. EUR/USD looks

| 20/01/2021 10:39
Show More Popular News