Login to
TheFXApp

Account

Your TheFXApp account gives you access to the tools that we offer our customers including our
Technical Studies & Sentiment for your accounts.

Don't you have a TheFXApp account? With a few easy steps you can easily register to TheFXApp

Register
Thank you!
Welcome to TheFXApp family!
You have succesfully completed the registration. We will send you an e-mail to give you some instructions and our Terms and Conditions!
Our account representatives will be contacting you as soon as possible. If you have any further questions please do not hesitate to
mail us via support@thefxapp.com
News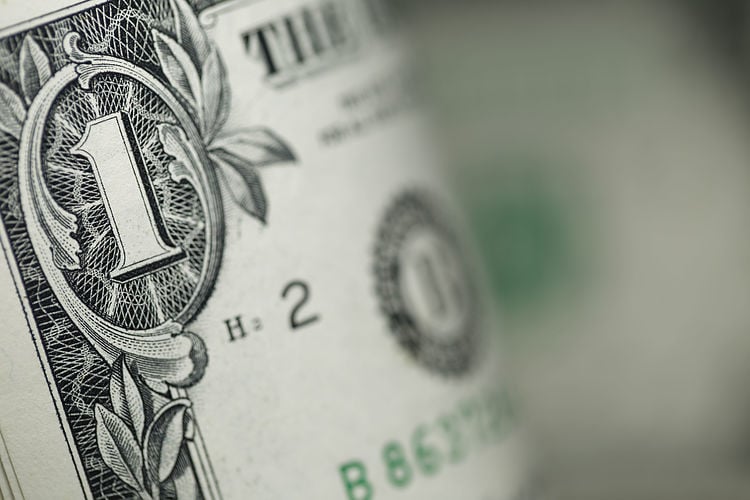 | 19/09/2019 16:22
The Greenback erased the gains made on Wednesday after the Fed cut rates.
DXY (US Dollar Index) is trapped in a two-week range.
DXY daily chart
DXY (US Dollar Index) is trading in a bull trend above the main daily simple moving averages (DSMAs). However, the Greenback has been trading in a trading range in the last two weeks. On Wednesday, the Fed cut 25 bps as it was widely expected but from a technical perspective, nothing as substantially changed.
DXY four-hour chart
DXY is in a range above the 98.20 support and the 200 SMA. There is little directional bias as the range is getting nearer and nearer. Arguably DXY is also forming a triangle pattern with a potential breakout in either direction.
DXY 30-minute chart
DXY was quick to erase the Fed's inspired spike seen on Wednesday. The market is bouncing from the 98.20 level. Foe any meaningful move to happen, bulls would need a break above the 98.68 resistance while bears would need to clear the 98.00 support.
Additional key levels
Popular News
Colombia Interest rate meets expectations (2.75%)

Colombia Interest rate meets expectations (2.75%)

| 29/05/2020 21:00

AUD/JPY Price Analysis: Aussie finally breaks above the 71.75 resistance

AUD/JPY is printing higher highs and lows as the positive sentiment in Wall Street remains intact. The quote finally broke above the 71.75 level as the month o

| 29/05/2020 21:33

Australia CFTC AUD NC Net Positions down to $-40K from previous $-39.6K

Australia CFTC AUD NC Net Positions down to $-40K from previous $-39.6K

| 29/05/2020 19:54

United States CFTC Oil NC Net Positions declined to 542.6K from previous 543.6K

United States CFTC Oil NC Net Positions declined to 542.6K from previous 543.6K

| 29/05/2020 19:53

United States CFTC Gold NC Net Positions: $237.9K vs previous $251.8K

United States CFTC Gold NC Net Positions: $237.9K vs previous $251.8K

| 29/05/2020 19:53

European Monetary Union CFTC EUR NC Net Positions rose from previous €72.6K to €75.2K

European Monetary Union CFTC EUR NC Net Positions rose from previous €72.6K to €75.2K

| 29/05/2020 19:53

United States CFTC S&P 500 NC Net Positions down to $-276.7K from previous $-252.9K

United States CFTC S&P 500 NC Net Positions down to $-276.7K from previous $-252.9K

| 29/05/2020 19:53

Japan CFTC JPY NC Net Positions increased to ¥34.6K from previous ¥27.5K

Japan CFTC JPY NC Net Positions increased to ¥34.6K from previous ¥27.5K

| 29/05/2020 19:53

United Kingdom CFTC GBP NC Net Positions dipped from previous £-19K to £-22.3K

United Kingdom CFTC GBP NC Net Positions dipped from previous £-19K to £-22.3K

| 29/05/2020 19:53

US Dollar Index Index Price Analysis: DXY ends the week near 10-week lows

DXY dropped to the 98.20/98.00 support zone while under below the main SMAs. If the market can find some footing here, the index might rebound. However, a brea

| 29/05/2020 20:37

NFP: How many temporary layoffs will turn into permanent job losses? – Wells Fargo

Next Friday, the US official employment report for May is due. Market consensus and also analysts at Wells Fargo expect a decline of 8 million in payr

| 29/05/2020 20:28

EUR/USD: Balance of risks shifting in favour of stronger euro – MUFG

Analysts at MUFG Bank point out the EUR/USD pair finally broke above the 1.1000 level and argue the current advance was built on firmer foundations. T

| 29/05/2020 20:14

USD/MXN rebounds from two-months low, ends May sharply lower

The USD/MXN dropped to 22.00 on Friday, hitting a fresh two-month low and then rebounded. Near the end of the week, it is trading at 22.25, up for the

| 29/05/2020 20:03

US Pres. Trump: Will take steps to sanction Hong Kong officials involved in eroding of autonomy

"China broke their word to ensure the autonomy of Hong Kong," US President Donald Trump told a news conference on Friday. "China's action on Hong Kong

| 29/05/2020 18:58

US Pres. Trump reportedly won't announce additional tariffs on China

According to several news outlets, US President Donald Trump won't announce any changes to the Phase-one trade deal with China. Trump is not expected

| 29/05/2020 19:41

NY Fed: Treasury purchases next week will be lowered to $22.5 billion

The Federal Reserve Bank of New York announced on Friday that it will purchase approximately $4.5 billion in Treasury securities every day next week.

| 29/05/2020 19:28

Looking for ECB to expand PEPP by €500 billion – TD Securities

Previewing the European Central Bank's monetary policy meeting next week on June 4th, "the focus of the June meeting will likely be the expansion of t

| 29/05/2020 19:10

GBP/USD retreats from highs near 1.2400 ahead of Trump's conference

Sterling's rally from 1.2230 lows has reached two-week highs at 1.2395. The pair, however, has not been able to consolidate at those levels and pulled

| 29/05/2020 18:04

US President Donald Trump press conference – live stream

US President Donald Trump is hosting a news conference from White House. US Pres. Trump weighing sanctions targeting China's financial sector – Bloomb

| 29/05/2020 19:02

NZD/USD drops to daily low at 0.6170 ahead of US Pres. Trump's presser

The NZD/USD pair capitalized on the broad-based USD weakness and surged to its highest level since March 12th at 0.6241. However, the risk-averse envi

| 29/05/2020 18:56

GBP/JPY: Downside risk from Brexit and negative rates – MUFG

Analysts at MUFG Bank maintain a short GBP/JPY trade idea in anticipation that the weakness in the pound will extend further in the near-term. They se

| 29/05/2020 18:38

AUD/JPY Price Analysis: Aussie pressuring monthly highs vs. yen, bullish

AUD/JPY is making higher highs and lows as the bullish sentiment stays intact. The quote is about to challenge the 71.75 level as the risk-on mood in Wall Str

| 29/05/2020 18:31

USD/CHF Price Analysis: Approaching an important support level at 0.9590/95

The US dollar increased its bearish pressure on Thursday after breaking below the bottom line of the last two months' triangle pattern at 0.9650 area

| 29/05/2020 17:16

US Pres. Trump weighing sanctions targeting China's financial sector – Bloomberg

US President Donald Trump is weighing sanctions that target China's financial sector through sanctions and trade policy over Hong Kong, Reuters report

| 29/05/2020 18:07

XAU/USD: Gold could be firm even if the equity market is strong – HSBC

Analysts at HSBC point out that in the current climate, gold may rally even if the US dollar goes up, and could be firm even if the equity market is s

| 29/05/2020 18:04

United States Baker Hughes US Oil Rig Count down to 222 from previous 237

United States Baker Hughes US Oil Rig Count down to 222 from previous 237

| 29/05/2020 17:02

Turkey: Despite the downside surprise of 1Q GDP, we still maintain 0% 2020 GDP forecast – BBVA

According to the Research Department at BBVA, despite the downside surprise of 1Q GDP in Turkey, they still maintain a 2020 GDP forecast of 0%, with r

| 29/05/2020 17:52

EUR/USD seen at 1.05 on a 3-month view – Rabobank

The euro rally o=bserved over the last two weeks has been fuelled by the coronavirus stimulus proposal says the FX analysts' team at Rabobank, who see

| 29/05/2020 17:39

US: Unprecedented drop in spending, income soars on transfers – Wells Fargo

Analysts at Wells Fargo, point out that thanks to a massive surge in government transfer payments, April 2020 goes down in the history books as the la

| 29/05/2020 17:35

GBP/JPY Price Analysis: Pound stays capped below 133.00 figure vs. yen

After attempting to break above the 133.00 resistance one more time, GBP/JPY remains choppy as the month of May comes to an end. As the overall trend remains b

| 29/05/2020 17:28
Show More Popular News