Login to
TheFXApp

Account

Your TheFXApp account gives you access to the tools that we offer our customers including our
Technical Studies & Sentiment for your accounts.

Don't you have a TheFXApp account? With a few easy steps you can easily register to TheFXApp

Register
Thank you!
Welcome to TheFXApp family!
You have succesfully completed the registration. We will send you an e-mail to give you some instructions and our Terms and Conditions!
Our account representatives will be contacting you as soon as possible. If you have any further questions please do not hesitate to
mail us via support@thefxapp.com
News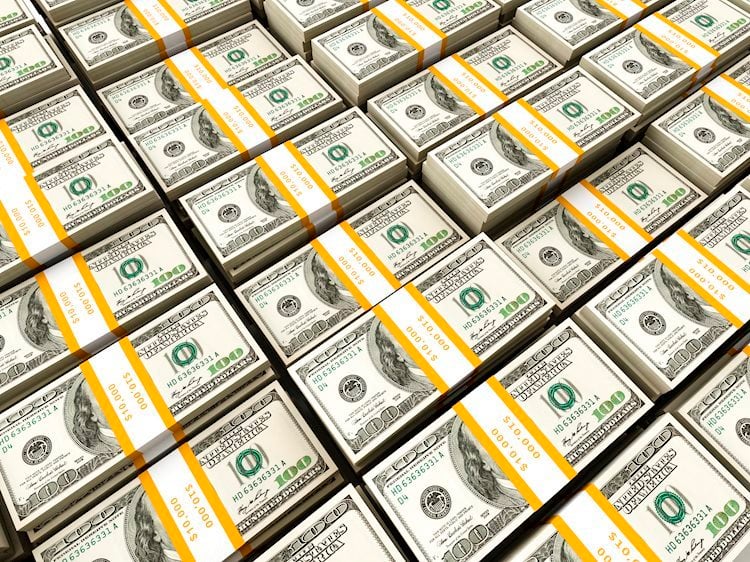 | 16/08/2019 22:03
DXY (US Dollar Index) is ending the week above 98.10 support.
The next targets to the upside could be located at 98.10 and the 98.38 levels.
DXY daily chart
DXY (US Dollar Index) is in a bull trend above its main daily simple moving averages (DSMAs). DXY got a boost on Thursday as the European Central Bank's (ECB) member Olli Rehn said that ECB stimulus package in September might overshoot expectations. Also, the Retail Sales Control Group in July surpassed expectations adding to the positive sentiment on the Greenback. On Friday, Consumer Confidence disappointed market expectations.
DXY 4-hour chart
The market is settling above 98.10 and its main SMAs. DXY bulls need to clear 98.38 to climb towards 98.68 and the 98.93 levels.
DXY 30-minute chart
The Greenback is trading above its main SMAs, suggesting bullish momentum. Immediate support could be found near the 98.10, 97.95 and 97.85 levels.
Additional key levels
Popular News
Japan's Aso: Almost all G20 ministers mentioned risk from coronavirus

G20 members generally agreed on the need to coordinate in responding to the impact of the coronavirus outbreak on the global economy and almost all mi

| 22/02/2020 15:33

IMF's Georgieva: Chinese economy to grow 5.6% in 2020, 0.4% lower than January outlook

The current baseline scenario sees China's economy returning to normal in the second quarter of the year with relatively minor and short-lived impact

| 22/02/2020 15:25

WHO's Tedros: Concerned about number of COVID-19 cases with no clear epidemiological link

"Although the total number of COVID-19 cases outside China remains relatively low, I stressed our concern about cases with no clear epidemiological li

| 22/02/2020 09:46

BoJ's Kuroda: BoJ ready to ease without hesitation if needed

The Bank of Japan (BoJ) is ready to ease its monetary policy without hesitation if needed, BoJ Governor Kuroda said on the sidelines of a conference i

| 22/02/2020 08:26

EUR/USD Price Analysis: Euro correction up is underway, bulls eyeing 1.0878 level

EUR/USD is trading in a bear trend below the main daily simple moving averages (SMAs) as the market is rebounding from 34-month lows.

| 21/02/2020 21:43

US Dollar Index Price Analysis: DXY closes below the 2019 high, retraces from 2020 top

The US dollar index (DXY) is pulling back down, on track to close below the 2019 high at 99.67 level. DXY erased the gains of the last two days this Friday.

| 21/02/2020 21:12

United States CFTC Gold NC Net Positions rose from previous $308K to $353.6K

United States CFTC Gold NC Net Positions rose from previous $308K to $353.6K

| 21/02/2020 20:47

European Monetary Union CFTC EUR NC Net Positions declined to €-91.5K from previous €-85.7K

European Monetary Union CFTC EUR NC Net Positions declined to €-91.5K from previous €-85.7K

| 21/02/2020 20:47

United States CFTC USD NC Net Positions fell from previous $34.8K to $29.8K

United States CFTC USD NC Net Positions fell from previous $34.8K to $29.8K

| 21/02/2020 20:47

Japan CFTC JPY NC Net Positions: ¥-27.2K vs previous ¥-26.2K

Japan CFTC JPY NC Net Positions: ¥-27.2K vs previous ¥-26.2K

| 21/02/2020 20:47

United Kingdom CFTC GBP NC Net Positions climbed from previous £21.1K to £29.3K

United Kingdom CFTC GBP NC Net Positions climbed from previous £21.1K to £29.3K

| 21/02/2020 20:46

United States CFTC Oil NC Net Positions increased to 411.8K from previous 396.8K

United States CFTC Oil NC Net Positions increased to 411.8K from previous 396.8K

| 21/02/2020 20:46

United States CFTC Oil NC Net Positions up to 411.89K from previous 396.8K

United States CFTC Oil NC Net Positions up to 411.89K from previous 396.8K

| 21/02/2020 20:46

Australia CFTC AUD NC Net Positions down to $-37.5K from previous $-32.7K

Australia CFTC AUD NC Net Positions down to $-37.5K from previous $-32.7K

| 21/02/2020 20:46

Argentina Trade Balance (MoM) below expectations ($1200M) in January: Actual ($1015M)

Argentina Trade Balance (MoM) below expectations ($1200M) in January: Actual ($1015M)

| 21/02/2020 20:00

United States Baker Hughes US Oil Rig Count rose from previous 678 to 679

United States Baker Hughes US Oil Rig Count rose from previous 678 to 679

| 21/02/2020 19:20

AUD/USD Price Analysis: Aussie bounces from one-decade low

The aussie is attempting to reverse up from one-decade lows while trading well below its main daily simple moving averages (SMAs).

| 21/02/2020 18:34

GBP/USD to struggle to regain strong footing above 1.30 – Rabobank

Commenting on the GBP/USD pair's action earlier this week, "GBP/USD dropped to its lowest levels since November as the pound failed to hold its own ag

| 21/02/2020 18:08

EUR/JPY Price Analysis: Euro clings to February highs above the 121.00 figure

EUR/JPY is reversing up sharply from four-month lows while trading above the main daily simple moving averages (SMAs).

| 21/02/2020 17:55

USD/CAD extends slide toward 1.3200, remains on track to finish week in red

The heavy selling pressure surrounding the greenback and a modest rebound seen in crude oil prices caused the USD/CAD pair to slide toward the 1.3200

| 21/02/2020 17:40

ECB's Lane: Forward guidance has been and continues to be an effective monetary policy tool

"Evidence suggests that the ECB's rate forward guidance has been and continues to be an effective monetary policy tool," European Central Bank's chief

| 21/02/2020 17:05

USD/CHF Price Analysis: Dollar trading in five-day lows vs. Swiss franc, sub-0.9800 figure

After hitting new 2020 highs every day of the week, USD/CHF is erasing the gains and trading near five-day lows. The spot is trading below the 100/200-day simp

| 21/02/2020 17:04

NY Fed's GDP Nowcast jumps to 2% from 1.4% for first quarter of 2020

The US economy is expected to expand by 2% in the first quarter of 2020, the Federal Reserve Bank of New York's latest Nowcasting Report showed. "News

| 21/02/2020 16:31

Saudi energy minister: Report on Saudi Arabia considering break from OPEC+ "utter nonsense"

Commenting on the Wall Street Journal report claiming that Saudi Arabia was considering a break from the OPEC+ alliance, Saudi Energy Minister Prince

| 21/02/2020 16:28

USD/JPY Price Analysis: Dollar retreating from 10-month highs, trades below 112.00 figure vs. yen

Dollar/Yen broke above an ascending channel while above its main daily simple moving averages (SMAs). The spot is correcting down after two consecutive days o

| 21/02/2020 16:10

GBP/USD climbs above 1.2970 as USD selloff intensifies after PMI data

The GBP/USD pair extended its daily recovery during the American session on Friday and touched a fresh daily high of 1.2978 as the USD came under heav

| 21/02/2020 16:00

EUR/USD: Bullish corrective movement

The EUR/USD pair has hovered around 1.0800 for the last three trading days, although weak US PMI have helped it trim weekly losses, now trading at aro

| 21/02/2020 15:33

EUR/USD: PMIs triggering profit-taking

Weaker than expected US Markit PMI triggers some profit-taking ahead of the weekend. German business confidence tumbled, while EU data continues to in

| 21/02/2020 15:29

Gold Price Analysis: XAU/USD unstoppable, breaks to fresh 2020 highs, approaching $1650/oz

XAU/USD is trading in an uptrend above its main daily simple moving averages (SMAs) while breaking above a bull channel. Gold is printing fresh 2020 highs hitt

| 21/02/2020 15:22

AUD/USD: Trend is to the downside

AUD/USD has tumbled down to the lowest since 2009 amid coronavirus fears and other factors. Late February's daily chart is pointing to the downside, a

| 21/02/2020 15:21
Show More Popular News