Login to
TheFXApp

Account

Your TheFXApp account gives you access to the tools that we offer our customers including our
Technical Studies & Sentiment for your accounts.

Don't you have a TheFXApp account? With a few easy steps you can easily register to TheFXApp

Register
Thank you!
Welcome to TheFXApp family!
You have succesfully completed the registration. We will send you an e-mail to give you some instructions and our Terms and Conditions!
Our account representatives will be contacting you as soon as possible. If you have any further questions please do not hesitate to
mail us via support@thefxapp.com
News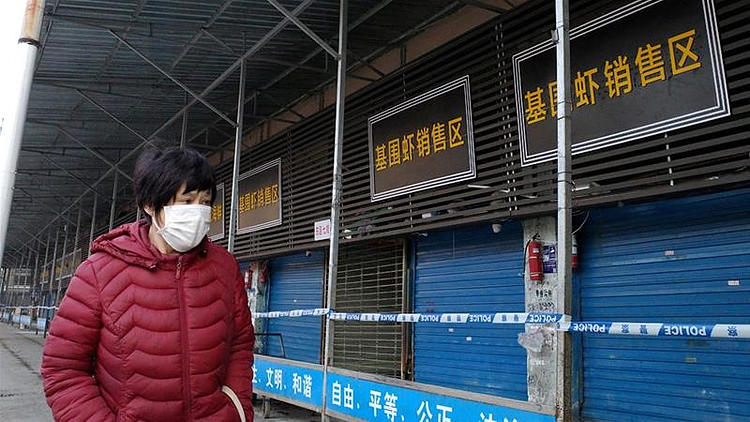 The coronavirus, COVID-19, is decimating the US as the US President, Donald Trump remains determined to get the country back to work, "pretty quickly"

| 29/03/2020 18:47

The coronavirus, COVID-19, is decimating the US as the US President, Donald Trump remains determined to get the country back to work, "pretty quickly". The president does not believe the numbers being projected are accurate, however, his own Task Force team member Anthony S. Fauci said Sunday that the nation could record 100,000 to 200,000 deaths and millions of infections, according to evolving projections.

Deborah Birx, another member of the task force offered a similarly grim assessment: "No state, no metro area, will be spared." As it stands, there are more than 2,200 coronavirus-related deaths and 130,000 confirmed cases in the United States.

In other news, Chinese scientists have developed a new weapon to combat the COVID-19, according to the Global Times. "They say they have found a nanomaterial that can absorb and deactivate the virus with 96.5-99.9% efficiency."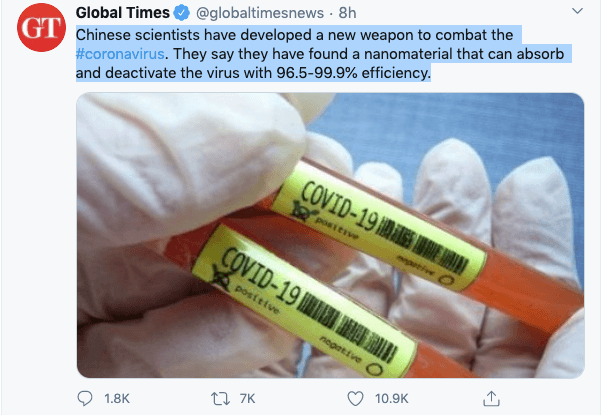 As for news from around the world here are some significant developments, selected from the Washington Post:
Britain could take six months or more to return to "normal," a health official said.
Italy reported a slight decline in deaths on Sunday, with 756 dead in the past 24 hours, raising the country's total to 10,799. There are more than 32,000 covid-related fatalities worldwide.
War-ravaged Syria reported its first death from the coronavirus, a woman who died as soon as she arrived in an ambulance at a hospital in an unspecified location, according to the Syrian state news agency SANA.
Washington state Gov. Jay Inslee (D) said Sunday that he would not lift his statewide stay-at-home order if Trump enacts his plan to categorize places by risk levels for covid-19, the disease caused by the novel coronavirus.

In Russia's most restrictive coronavirus-related measure yet, Moscow will enact a citywide quarantine starting Monday, Mayor Sergei Sobyanin announced. The stay-at-home order for all residents comes as the Russian capital's confirmed novel coronavirus cases surpassed 1,000 over the weekend — roughly two-thirds of the country's total. Eight people have died.

Japan is seeing a sudden acceleration in coronavirus cases, while President Hassan Rouhani warned his fellow Iranians that the novel coronavirus could linger in their country for up to two years.
Prime Minister Narendra Modi apologized for the handling of the lockdown in India.
Market implications
This is an economic tsunami yet stock markets, are so far, holding within correction territory while the outlooks from the US president and China are more optimistic than most. The S&P 500 was ending down by over 3% on Friday but held in a significant support structure as Trump looks to ease nationwide guidelines in the pursuit of a stronger economy, China appears to have successfully dampened the rate of new infections in Wuhan.
Meanwhile, the government of Hubei, the province that is home to Wuhan is removing travel restrictions and will allow residents, except those in Wuhan, to again move freely. Moreover, places like Shenzhen, which is the manufacturing hub in the south, and Hangzhou, a tech hot spot on the east coast, residents are reporting that the restaurants and malls are starting to refill. Markets are forward looking and are pricing in such headlines.
Popular News
Coronavirus update: Germany's death tally tops 8,500, new infections keep rising

The number of confirmed coronavirus cases rose to 181,815 with a total of 8,511 deaths, as reported by the German disease and epidemic control center,

| 01/06/2020 04:38

WTI Price Analysis: Overbought RSI challenges the bulls above $35.50

WTI fades the early-Asian session upside momentum while taking rounds to $35.50 amid the initial trading on Monday. In doing so, the black gold seesaw

| 01/06/2020 04:35

Japan's Suga: Hong Kong situation is deeply concerning, stability is important

Speaking at a regular news conference on Monday, Japanese Chief Cabinet Secretary Yoshihide Suga said the situation in Hong Kong is deeply concerning,

| 01/06/2020 04:28

Moody's: China's measures to support economy and employment will have mixed credit implications

Moody's Investors Service is out with its take on the Chinese support measures, announced at its annual plenary session last month, in an effort to ra

| 01/06/2020 04:20

Coronavirus impact: Markets are out of step with grim reality – Citibank

The Citibank analysts, in their latest client note, warned about the impending risks of the coronavirus pandemic that the market has failed to price-i

| 01/06/2020 04:07

Gold Price Analysis: XAU/USD teasing a rectangle breakout, $1750 in sight

Gold prices (XAU/USD) are trading with sizeable gains in Monday's thin Asian market conditions, trading near a new weekly high of $1740.74. The extens

| 01/06/2020 03:53

USD/CNH seen higher at 7.25 over the next three months – Goldman Sachs

Analysts at Goldman Sachs predict Yuan to fall further below 7.00 against the US dollar over the three-months, as US-China tensions are not seen subsi

| 01/06/2020 03:22

USD/CAD Price Analysis: Refreshes 11-week low to test five-month-old support line

USD/CAD drops to 1.3720, down 0.45% on a day, amid the Asian session on Monday. In doing so, the Loonie pair slips below 100-day SMA to visit the lowe

| 01/06/2020 03:16

NZD/USD jumps to fresh three-month tops near 0.6250 amid risk-on, China PMI big beat

The bid tone around the NZD/USD pair strengthened following the release of the upbeat Chinese Caixin May Manufacturing PMI, driving the pair to hit th

| 01/06/2020 03:15

AUD/USD: Bulls keep the baton above 0.6700, 16-week high, after China Caixin Manufacturing PMI

Tuesday's RBA becomes the key, for now, US-China news and the US PMIs can offer intermediate clues. AUD/USD remains positive around 0.6730, the highes

| 01/06/2020 02:57

Caixin China Manufacturing PMI 50.7 beats expectations 49.6 and prior 49.4

The Caixin China Manufacturing PMI has been released as follows: Caixin China Manufacturing PMI Caixin China Manufacturing PMI 50.7 beats expectations

| 01/06/2020 01:46

China Caixin Manufacturing PMI registered at 50.7 above expectations (49.6) in May

China Caixin Manufacturing PMI registered at 50.7 above expectations (49.6) in May

| 01/06/2020 01:46

GBP/USD Price Analysis: On the bids around 1.2400 inside short-term rising channel

GBP/USD gains 0.45% on a day while taking the bids near 1.2400 amid Monday's Asian session. The Cable seems to cheer the sustained break of 200-bar SM

| 01/06/2020 02:30

PBoC fixes USD/CNY Reference Rate at 7.1315 vs prev fix 7.1316 prev close 7.1348

PBoC To Skip Open Market Ops Today PBoC Fixes USDCNY Reference Rate At 7.1315 (prev fix 7.1316 prev close 7.1348) PBoC Gauges Demand For 7, 14, 28 & 6

| 01/06/2020 01:18

EUR/USD Price Analysis: Prints five-day winning streak above 1.1100

EUR/USD rises to 1.1120, up 0.20% on a day, during the Asian session on Monday. While keeping the sustained trading above the short-term resistance li

| 01/06/2020 02:12

AUD/USD's relief spike to test 0.67 level

AUD/USD has rallied in Tokyo, jumping from 0.6660 to a high of 0.6701. At the time of writing, AUD/USD trades at 0.6694 having travelled from a low of

| 01/06/2020 02:10

Australia TD Securities Inflation (YoY) declined to 0.1% in May from previous 1.2%

Australia TD Securities Inflation (YoY) declined to 0.1% in May from previous 1.2%

| 01/06/2020 01:03

Australia TD Securities Inflation (MoM) fell from previous -0.1% to -1.2% in May

Australia TD Securities Inflation (MoM) fell from previous -0.1% to -1.2% in May

| 01/06/2020 01:02

When is China's Caixin Manufacturing PMI and how could it affect the AUD/USD?

Having witnessed downbeat prints of China's NBS Manufacturing PMI, not to forget the previous month's failure to keep the expansion, China's May month

| 01/06/2020 01:57

Trump privately scolded, warned by allies – Axios

A Friday tweet by Trump was flagged by Twitter for violating its rules about "glorifying violence," called protestors "THUGS" and used the phrase, "wh

| 01/06/2020 01:38

Silver Price Analysis: Two-month-old resistance line lures the bulls above $18.00

Silver nears the highest since February 27 while taking the bids around $18.08, intraday high of $18.13, up 1.2% on a day, during Monday's Asian session.

| 01/06/2020 01:35

South Korea Nikkei Markit Manufacturing PMI registered at 41.3 above expectations (41.1) in May

South Korea Nikkei Markit Manufacturing PMI registered at 41.3 above expectations (41.1) in May

| 01/06/2020 00:31

Japan Jibun Bank Manufacturing PMI in line with expectations (38.4) in May

Japan Jibun Bank Manufacturing PMI in line with expectations (38.4) in May

| 01/06/2020 00:31

AUD/NZD: Bears looking for trade wars to pipe up

AUD/NZD has been trading in a phase of consolidation sub the 1.08 hande following a prior failure. At the time of writing, the cross is trading at 1.0

| 01/06/2020 00:19

WTI retreats from 12-week high as OPEC+ news confront Sino-American tension

WTI eases from the highest since March 11 to $35.20 during Monday's Asian session. Upbeat sentiment surrounding the Organization of the Petroleum Expo

| 01/06/2020 01:16

South Korea Trade Balance came in at $0.436B, above forecasts ($-3.427B) in May

South Korea Trade Balance came in at $0.436B, above forecasts ($-3.427B) in May

| 01/06/2020 00:03

South Korea Trade Balance came in at $0.44B, above forecasts ($-3.427B) in May

South Korea Trade Balance came in at $0.44B, above forecasts ($-3.427B) in May

| 01/06/2020 00:02

Japan Capital Spending above expectations (-4.2%) in 1Q: Actual (4.3%)

Japan Capital Spending above expectations (-4.2%) in 1Q: Actual (4.3%)

| 31/05/2020 23:54

AUD/JPY Price Analysis: Eases from 13-week top, still above 100-day SMA

AUD/JPY drops to 71.70 ahead of the Tokyo open on Monday. The pair recently stepped back from the highest since February 28. However, bullish MACD and

| 01/06/2020 00:38

Gold Price Analysis: XAU/USD refreshes 7-day top above $1,700 as S&P 500 Futures drop over 1.0%

Gold prices remain firm around $1,739, intraday high $1,740.74, amid the pre-Tokyo Asian session on Monday. The bullion benefits from the escalation i

| 01/06/2020 00:17
Show More Popular News